Hi All,
Well, this post marks the end of the second week of Online Card Class, I am so sad to see the class nearing its end =(. I have learned SO much from this class and can't even believe the number of cards that were contributed to the galleries for additional inspiration. For today's assignment we were asked to make multiple cards using 1 stamp set. I used the Follow Your Heart stamp set by My Minds Eye to create my 3 cards. Here they are!
Card One:
For this card I used the banner stamp to create a road sign and cut the "enjoy the journey" apart to create 3 separate stamps for a bike trail. Also, I used a blacked-out ticket stamp in a repeated fashion to create the brick pattern on the bottom of the card. I absolutely love the way it turned out. Super simple, but effective!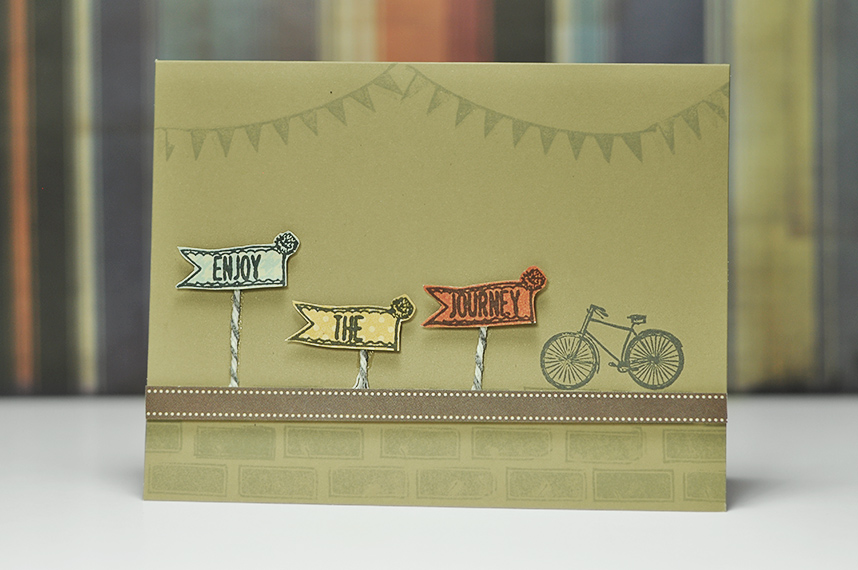 Card Two:
For card two I used used the light bulb stamp in a staggered way to create visual significance and hand wrote a sentiment. I then covered the bulbs in glossy accents for extra shine. Super simple!
Card Three:
Added some paper to the background and repeatedly stamped the banner. I then stamped the light bulb onto a polka dot patterned paper to get "colored bulbs" and hung them upside down. I then covered the bulbs with some diamond stickles so they create a soft shine/glow!
Supplies:
Card Base: Neenah Environmental Cardstock and Hero Arts Notecard
Papers: My Minds Eye – Blink of an Eye
Stamp: My Minds Eye – Follow your heart
Ink: Stampin' Up – Basic Black, Raspberry Red, Momento – Tuxedo Black Ink
Twine: Crafty Basics Grey