Hello all,
I'm so excited to share a fun project I created the other day! I have always been drawn to fun prints and textures when it comes to stationary and notebooks. I try to keep things lively and colorful to brighten up my desk or work space. So the other day as I was looking at some sketch paper and chipboard I had purchased over a year ago, I decided I'd make my very own sketchbook/journal to help organize my thoughts when it comes to cardmaking and project designs.
The covers are 7 gypsies Nouveau book covers. The interior papers are creme cardstock from 7 gypsies as well. I trimmed down the cardstocks to match the book (approximately 7″ x 5.5″).
The bookcovers were covered with atg and then wrapped with papers from the Echo Park 12×12 Simple Life collection.
I did the same on thing to the back.  Then, I hand-punched holes throughout each page so that I could loop through some gold thread.
I absolutely LOVE the way the gold thread shows threw while the book is open.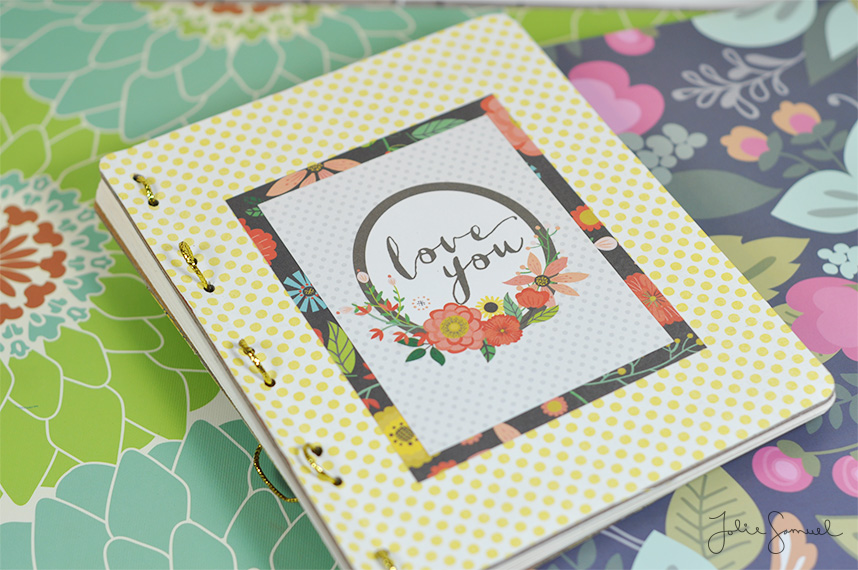 And here's the finished beauty resting on top of some of my other notebooks I have on my desk. These notebooks are seriously my all time favorites!