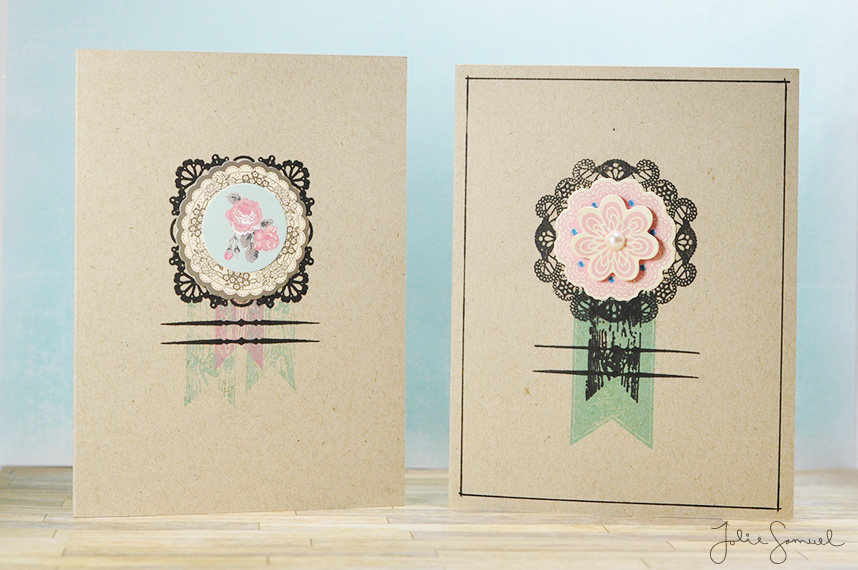 Hi all,
It's no secret that in the craft world everyday items become the foundation to create something new. Today, I'm taking fancy lace like papers we use to dress our desserts to create a set of notecards. Now, I didn't actually use the paper version for a doily, but rather a set of images from a stamp set. A while back I purchased a couple of gorgeous stamp sets from My Minds Eye that included a couple of doily images that I thought would make the perfect foundation for a set of notecards. When I purchased these sets, I immediately knew how I wanted to purpose those specific stamps.
I used my favorite blank onyx ink and stamped the doily images as the foundation for the cards. Next, I layered on dimensional die-cuts of another set of doilies. Yes, doilys on top of doilys. Too busy? Absolutely not. By keeping the base black and neutral, the die-cuts are grounded to something – otherwise they'd just look like they are 'floating' in the middle of the page.
Next, I used a woodgrain banner stamp and grabbed a few of my favorite spring ink colors from Hero Arts. The key was to not add too much color. Keep it simple.
To finish off the cards I added some details (stripes, borders, and a few extra woodgrain lines) using a black gel pen.
I love that these cards are so simple but have multiple layered images to create a beautiful visual impact.