Hi Friends!
As I've mentioned in previous posts, I recently changed up my entire office space. I gave it a fresh coat of paint, some new fabrics and drapes & changed out containers to better suite the space. Throughout the process, I've been trying to find unique pieces to create storage. I'm a huge fan of thrift store finds and was on the lookout for some pieces for my space or future projects!
I found two items on 2 different occasions.
First, I found an old ornate looking shelf. \\click here to read that post\\
A few months later, I found a box that looked alot like a letter type box or a configuration box. I'm not entirely sure what its intended purpose was.
I designed a Christmas configuration box a while ago and thought maybe this piece could function in a similar way. \\Click here to view the configuration box I made for Christmas.\\
As I was reorganizing this week, I figured it was time to get this piece painted. I grabbed a can of my all time favorite spray paint by American Accents and gave the piece a couple coats of spray paint. Immediately I thought of a FANTASTIC purpose for the piece. "I wonder if this would fit a roll of tape," I thought.
Guess what? It totally does! These tapes used to take up 3 jars in my space. How crazy is that?!
Oh, my crafty heart!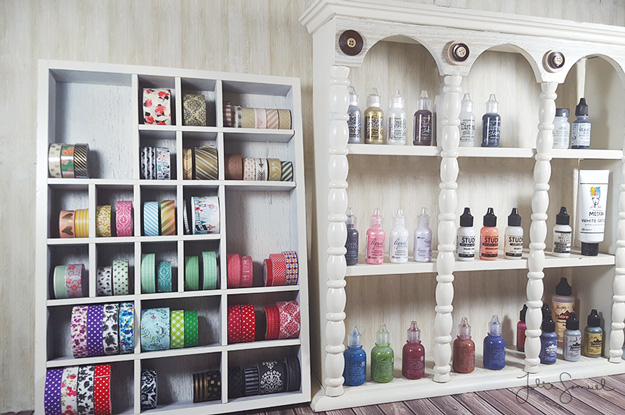 I decided to pair the piece up with my other shelf.
I can't believe how fantastic these two pieces turned out! Seriously friends, if you haven't checked out your local thrift store for some awesome storage finds…you should! Keep in mind that a fresh coat of paint can change an entire piece!
~Happy hunting!