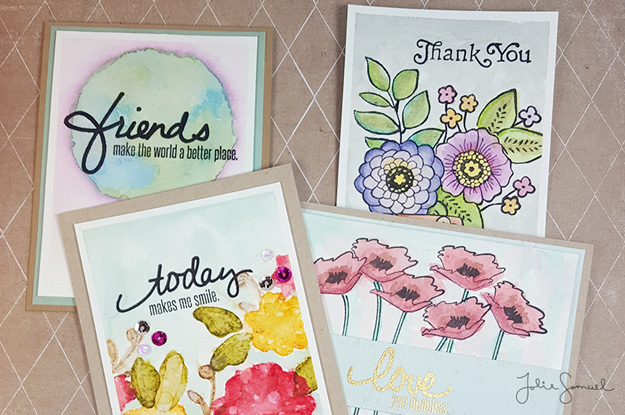 Hi all,
I'm back with multiple cards to share with you all in one day! Surprise!
When it comes to watercolor, there are just a ton of ideas and techniques out there in the world. It can absolutely be overwhelming, but that only inspires me to explore mediums and try out different techniques. I used different mediums for each card and strathmore coldpress watercolor paper for each painting.
For the first card, I used distress markers. I decided to use my Tim Holtz distress markers to create a globe and then added in a highlight around to create that 'glow' type feel. Such a pretty card, and it's as simple as a hand drawn circle and loose watercoloring. The sentiment is a set from Hampton Arts and Jillybean. Love the scripty font!
On the second card, I used a more traditional medium. In my opinion, traditional mediums are more like pan sets, tubes, and inks with high pigmentation. For this I used my distress ink pads. These are different from the markers in that they are more concentrated colors and put out a lot more ink than the markers would. I embraced the concept of free-flowing ink by saturating the paper with quite a bit of water. I absolutely loved the way his one turned out! I can't believe how uniform the images look together, but individually I just let each shape do it's own thing.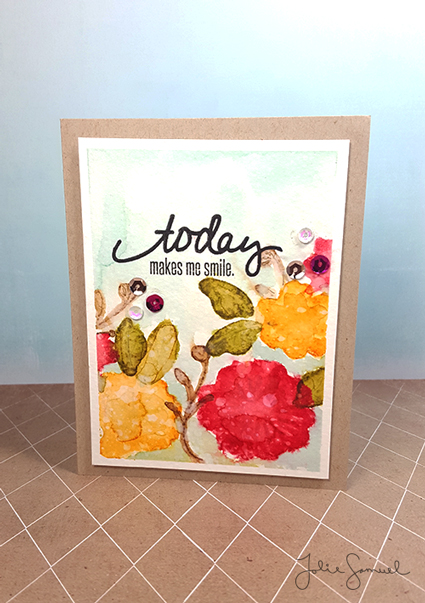 On this last card I used watercolor pencils. I tried multiple stamped images with this technique (as you'll see in the first photo). To get the look of free flowing ink I colored slightly outside the lines. Typically, I'm one that always likes to keep cards neat and tidy. This type of quick coloring is totally out of my comfort zone! But there is beauty in going outside those barriers isn't there? How inspiring!
So this wraps up what's going on in the craft room and I hope you enjoyed taking a quick look at my projects and practice pieces. I'll talk with you all real soon. In the meantime feel free to come follow me over on instagram (jolie_samuel) where I post even  more daily happenings of the craftroom and life.
Have a great weekend!