Hi all,
I'm just about wrapping up on all my Valentine's Day cards for the week but wanted to share the last few card designs I created. It's been a year of puns for the most part. As you may have noticed I've created quite a number of cards with silly/goofy sentiments that kids are getting a good laugh out of. So I wanted to create one more set of pun cards that are more of a boy theme (but honestly, a girl could totally love these)!
These robots are created with multiple layers of vellum and have a TON of blingy details. They are also mounted up on some solid foam dimensional. My inner card-maker would love to have hidden the foam tape so it's not so easily visible, however, I feel like kids would LOVE the opportunity to lift these bad boys off the card and stick 'em to something else. So I added a bit of tape to the backs for such a scenario.
Here's the inside. I added a to/from line for kids to fill out. I love a bit of personal touch to any card.
Next, I wanted to create a quick set of workplace, adult-friendly cards. These are probably my favorite of all my Valentine's day cards. There's just something about chalkboard art & kraft brown paper that I love. I added a pop of color by creating coordinating red envelopes.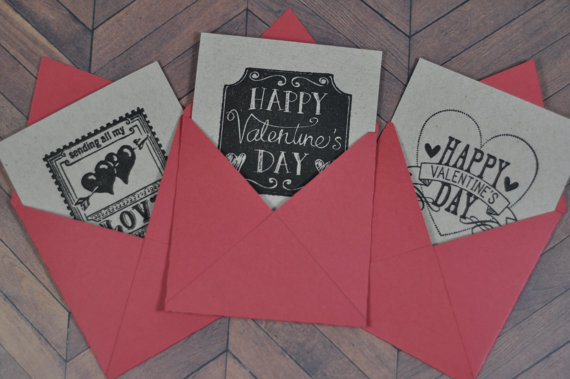 How cute are these!?
I hope you all have been inspired to create some fun little cards or treats for your loved ones!