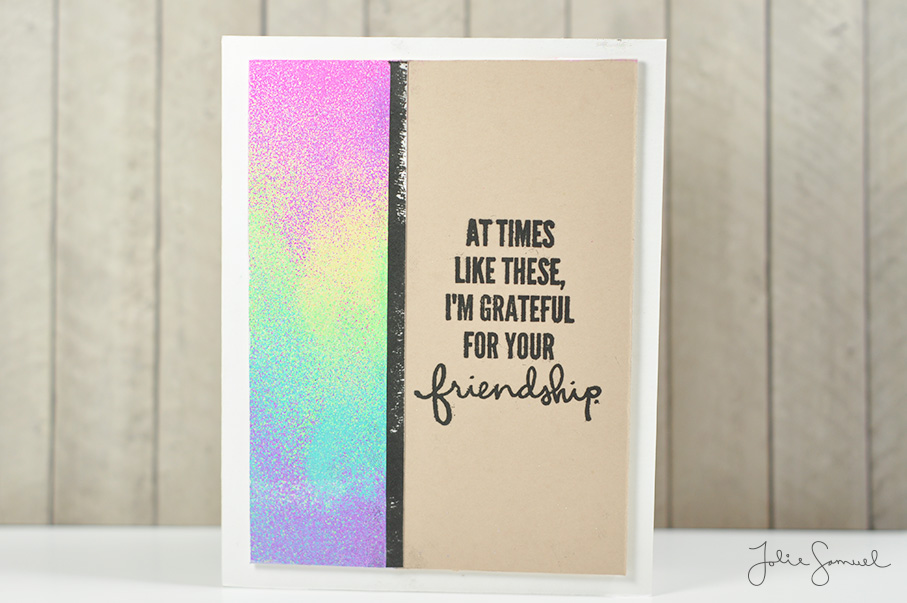 Hi All,
Hope you are having a great day and enjoying the cards I've been sharing as part of my participation in OCC Rainbow Maker. For today's card, I decided to take some of the brightest and boldest embossing powders I have and create a rainbow gradient as my colorful background. To do this technique I simply covered a piece of heavyweight cardstock in Versa mark ink (a very sticky ink) and then used my fingers to pinch up some embossing powders and coat parts of the sticky page. I used my fingers as I felt that was the best way to get control on how much powder would fall at different parts of the gradient. They all seemed to blend together perfectly using this method.
I also liked how some of the granules can be seen throughout the card but doesn't overpower the other colors. For example, you may notice a few grains of pink and purple are in the yellow, but the yellow still stands out on its own.
I really like this technique of embossing and the results it gives. It gives me vibes of a color festival where they throw colored powder up in the air (kind of like the color run marathons in the city).
I hope you enjoyed reading about this technique and I'll see you again tomorrow with an all new card.